Okuma Makaira IGFA Big Game Tournament Rod
Okuma Makaira IGFA Big Game Tournament Rod
Features
Durable E-glass blank construction.
ALPS new ball bearing roller guides with large know clearance.
ALPS heavy duty Aluminum reel seat.
ALPS Channel lock Aluminum butt, straight and bent version.
Abalone on the face highlighted the IGFA tournament rods.
Shrink tube fore grip for ultimate durability.
Illustrate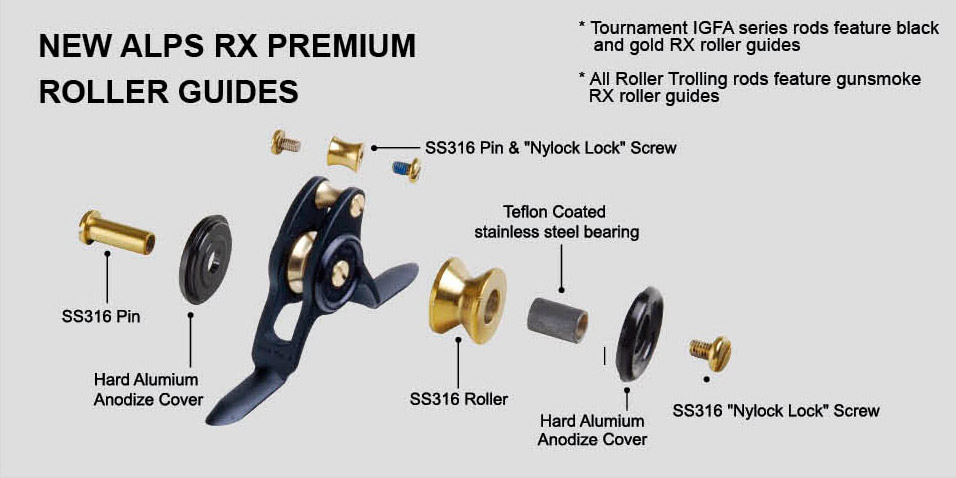 NEW ALPS RX PREMIUM RPLLER GUIDES
All Roller Trolling rods feature gunsmoke RX roller guides.
A:ALPS aluminum slotted reel seat with aluminum gimbal
B:ALPS aluminum reel seat with aliminum gimbal
C:ALPS aluminum bent butt section
Makaira Saltwater Standup and Trolling Rods
Model
Rod Power
Rod Taper
Rod Length
Line Weight
Lure Weight
Sections
Foregrip length
Reargrip length
Number of Guides
Handle Style
Weight (oz)
Trolling Rods All Roller Guides
MK-TR-601H
H
M/MF
6' 0"
30~80 lbs
N/A
1-pcs
16"
11-5/8"
5 + Tip
A
25.2
MK-TR-601XH
XH
M/MF
6' 0"
40~100 lbs
N/A
1-pcs
16"
11-5/8"
5 + Tip
A
26.1
MK-TR-601XXH
XXH
M/MF
6' 0"
50~120 lbs
N/A
1-pcs
16"
11-5/8"
5 + Tip
A
27.0
Makaira Sturgeon Rods
MK-ST-801M
M
F
8' 0"
65~130 lbs
N/A
1-pcs
6-1/4"
14"
9 + Tip
F
15.6
MK-ST-801MH
MH
F
8' 0"
80~150 lbs
N/A
1-pcs
6-1/4"
14"
9 + Tip
F
15.8
Makaira IGFA Straight butt Stand-up Rods
MK-TR-581-30S
H
M/MF
5' 8"
30~lbs IGFA
N/A
2-pcs
8"
11-3/4"
4 + Tip
B
35.7
MK-TR-581-50S
XH
M/MF
5' 8"
50~lbs IGFA
N/A
2-pcs
8"
11-3/4"
4 + Tip
B
37.2
MK-TR-5101-80S
XXH
M/MF
5' 10"
80~lbs IGFA
N/A
2-pcs
8"
14"
4 + Tip
B
41.1
Makaira IGFA Bent butt Stand-up Rods
MK-TR-5101-80B
XXH
M/MF
5' 10"
80~lbs IGFA
N/A
2-pcs
8"
14-3/4"
4 + Tip
C
47.0
Shipping
Shipping and delivery dates are based on the AVAILABILITY of the items and the SHIPPING option. Orders take 1-2 business days (in stock) to process for shipping.
When ordering, plan ahead as delay, damage or loss can happen within any type of carrier. For any urgent orders, please contact us directly prior to order placement so that we can accommodate your needs. Random authentication may take place for quality service.
Shipping department is open Monday through Friday from 9AM-2PM EST and closed for public holidays.
Free shipping only for orders over $100.00 in continental USA, EXCLUDING rods, blanks and other oversize items. We offer UPS for RODS and REELS due to delivery concerns. Small Rods and Reels will ship by USPS. All RODS and REELS require Signature Confirmation.
International (PAYPAL only)
International orders only by UPS for delivery concerns.
Please note that FIXED shipping fee for RODS, BLANKS AND OTHER OVER-SIZED PACKAGES are applicable for SHIPMENTS WITHIN THE UNITED STATES AND PUERTO RICO ONLY.
If you are ordering such items, please contact our customer service for the exact shipping quote and to place the order.
PLEASE check your shipping address before placing an order. We are not responsible for shipment delay, loss or damage due to incorrect address.
We do not under-declare shipment values.
Once shipped out of our warehouse, tracking and further-coordinating with your local carrier is the sole responsibility of you as the buyer.
Return Policy
Only New and Unused items within 14 days of delivery qualify for full refund returns. Original box, papers, parts, tags and/or other packaging has to be returned with the product. Refunds will take place within a week after verification.
NON-Jigging World item defects: Please contact the manufacturer for direct replacement or warranty repairs.